Jody's Story...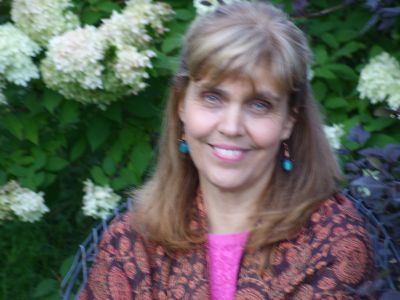 Jody works to facilitate transformational health and well being through an integration of energy based modalities and hands on therapies. These include Atlas and Body Balancing, Sound Code Therapy, Energy Work, Craniosacral, Plant Spirit Energy Medicine, Distance sessions for People and Animals, Traditional Ayurveda, and Massage and Massage Cupping. Jody also works with animals and is certified as an Animal Energy® Practitioner. Training through various teachers and systems since the early 1990's, and initiated in 2007 as a "Granicero", she is currently traversing a 7 year formal apprenticeship to become initiated as a Tepahtiani, (Healer, Counselor), in the Nahua Healing Medicine tradition of Mexico through the lineage of Don Lucio Campos Elizade. She hopes to bring this work to her homelands of New York.
Jody grew up in various cultures as a child between the ages of 5 and 14; Brazil, Europe and Puerto Rico, before returning to the U.S. Her first foray into the world of Healing Arts began in 1975 during a semester college course in Do-In, a form of Oriental Meridian Massage. In the late 1980's, Jody began to immerse herself in trainings ranging from Polarity, Craniosacral Therapy and Energetic and Intuitive Healing Work. She trained for years with various teachers in meditation, and psychic reading and Energy Healing work. In 1996 she attended Finger Lakes School of Massage and then became a New York Licensed Massage Therapist, continuing to immerse herself whenever possible with training in various forms of Energy and Body Work.
In 1996 she chanced upon the book "Plant Spirit Medicine" and after formal studies with its author, an elder in the Huichol tradition of the Sierra Madre, she began, in her own way, to offer the energy of the plants.
By 2007 she and her husband were initiated as Graniceros, or "quiapequiz and quiatlzques", in the Indian Nahua Healing and Weather Working lineage of Don Lucio Campos of Nepopualco, Morelos, Mexico. She brings back to New York a relationship with this medicine and healing tradition, which is still alive and honored in the culture of the Nahua people of the central highlands of Mexico. (To read a little more about this see: www.keepsthefire.org ).
Jody's work is rooted in a heart-centered practice of gratitude, relationship and connection with the Sacred. Since 2013 she has been traversing a formal 7 year medicine pathway in training as a Tepahtiani. This is a "Calling" in healing and ceremonial work open to those who have been initiated as "Quiapequis" and Quiatlzaques, part of a Nahua weather worker/healing lineage and ceremonial tradition that works to bring in beneficial rains and mitigate destructive storms for the benefit of local community).
In 2009 she was initiated into giving the Oneness Blessing, (an energy transfer whose intent is to jump-start and empower the awakening of the human species into higher states of consciousness). By 2010 she had gone to Oneness University in India and for several years worked as a "Oneness Trainer" back home, in order to help spread and deepen the Blessing work in her community.
In 2011, upon meeting an Ayurveda Archarya from Kerala India, and began training in the applications of Ayurveda, the Indian traditional art and science of life , under his auspices. She now hosts periodic "Ayurveda Healing Camps" for Pancha Karma. Throughout the year she offers the nourishing and rejuvenating therapies of Abhyanga, Shidodhara, and Poultice Therapy, using the highest quality authentic Ayurveda herbal oils from the world-renowned Arya Vaidya Sala.
In 2013 she has added Massage Cupping to her body-work practice and also was initiated into the foundational healing technology of "Atlas Balancing" and "Body Balancing" and Sound Code Therapy for people, pets and horses. She offers sessions also for Glands and Meridians. Also offered is Energy work for Animal Companions, Pets and horses,.
Distance sessions and "Space Clearing" Work is also available.
Jody built a home in the foothills of the Adirondacks where she has lived since 1977, off the grid and close to nature and the elements on a small homestead with her husband and animal companions.
Jody's wish? That all this no longer be such a "secret".
Soulspa Healing Arts Studio, Pierrepont, New York,
212 Wilson Rd.
"Where Nature and Nurture meet".
13 miles from Canton and Potsdam and 6 miles from Colton.
For inquiries or appointments, please call 315-386-3725
*NEW YORK STATE LICENSE # 009721-1 (Listed as Joanne Wallace).